While scrolling through Twitter this morning I found one of the craziest threads I have ever read. As the author of the thread stated, "this is too fucked up not to write about."
I have transcribed the thread and published it in The Free Press Report as I think there is a high chance this thread gets taken down or the entire Twitter account gets nuked. When you start questioning the establishment and how the ultra-elite operate suppression of information begins.
Give the author of this Twitter thread a follow and check out his newsletter. Let's make this go viral. Share this with everyone you can. It is time we stop letting hedge fund managers run the world
I'm sorry but this is just too fucked up to not write about. Bill Ackman is a member of the "Investor Advisory Committee on Financial Markets" of the New York Fed. What is the IACFM? Honestly, I didn't know until today…
IACFM is a "forum for informal discussions on financial, economic and public policy issues and helps inform the Fed president and senior management comprised of leaders in the investment community and is solely an advisory group with no formal policymaking responsibilities".
Who is on this "advisory board"? Well, it's pretty much just the largest hedge funds in the world. Given the Fed's influence on financial markets, the conflicts are so extreme and unavoidable that I'm shocked someone allowed this to exist.
On October 20, 2021, Bill Ackman gives a presentation to the Fed urging them to raise interest rates. The Executive Summary pictured below, and the full deck is here.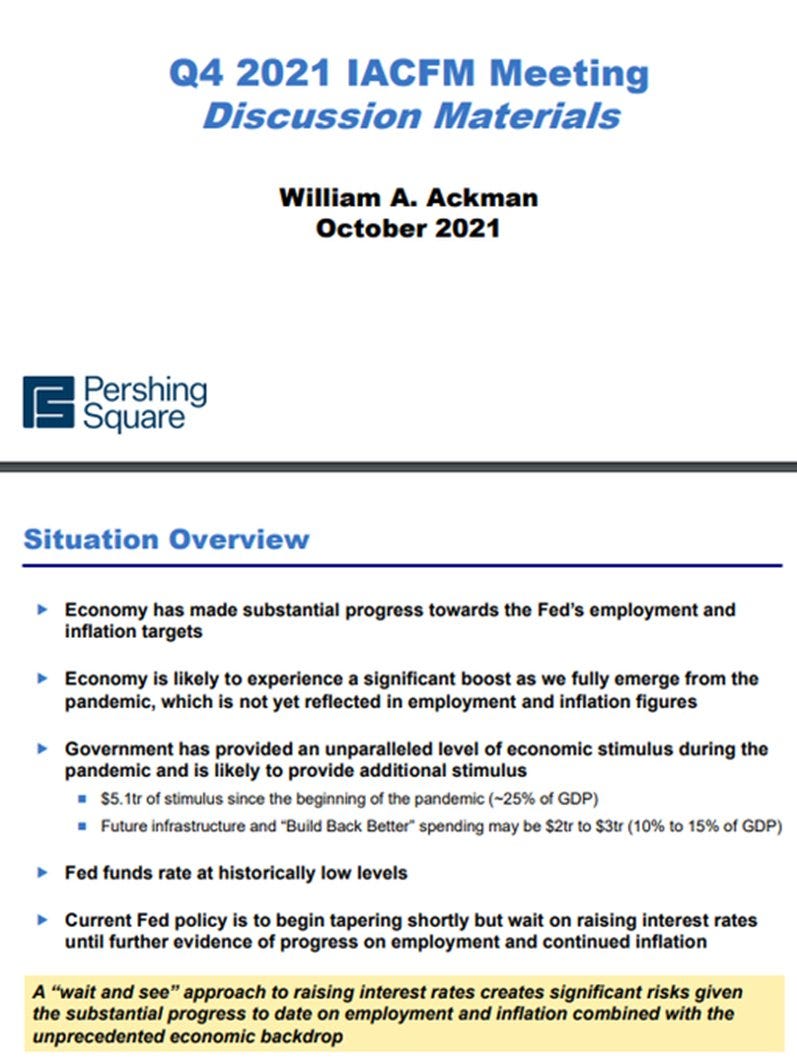 Then Bill Ackman, member of the Fed's "Advisory Committee", goes on a three-month public crusadeurging the Fed to raise interest rates, culminating in a demand for 50bps march hike to "shock and awe" markets to "restore Fed credibility".
At this point of course, Bill is betting big on interest rates rising (through swaptions – basically call options on interest rates) that he accumulated "in December 2020 and early 2021"
Then, LITERALLY HOURS after the January FOMC meeting that sent rates soaring, Bill sends out an "investor note" – publicly on his Twitter page, announcing that he just sold his 80% of his rate bets for $1.25 billion.
Let's be clear about what this note is, since most investor notes don't get published on twitter – it's a Chamath-style one-pager to pump his new NFLX position and to brazenly brag about how much fucking money he just made on his rates bet.
What's shocking to me is how in-your-face out in the open this all is. Like you'd think that if you'd want to be at least someone discrete given the circumstances surrounding it. One thing to publish research and advocate for your position, but this is an ADVISOR to the FED.
This year 25% of the Fed presidents, including the Vice Chair, resigned due to their trading activities. HFs can shape Fed policy, make billions, and brag on twitter. Pelosi yolos on tech monopolies she regulates and doesn't see a problem. Elon shills Doge on SNL.
I've spent whole career in finance and believe strongly in the power and importance of financial markets, but the Apes are right about one thing: This market is fucked – and there needs to be serious reform.
p.s. here's the "charter" for this board – a 1.5-page word document. And here are the GUIDELINES (!) for compliance / antitrust concerns: